​
To know how, Join this FUN HANDS-ON 2-Hour Excel workshop to Master Excel quickly.
​
I will be teaching Pivot Tables, IF statements & other functions of Excel in this LIVE workshop.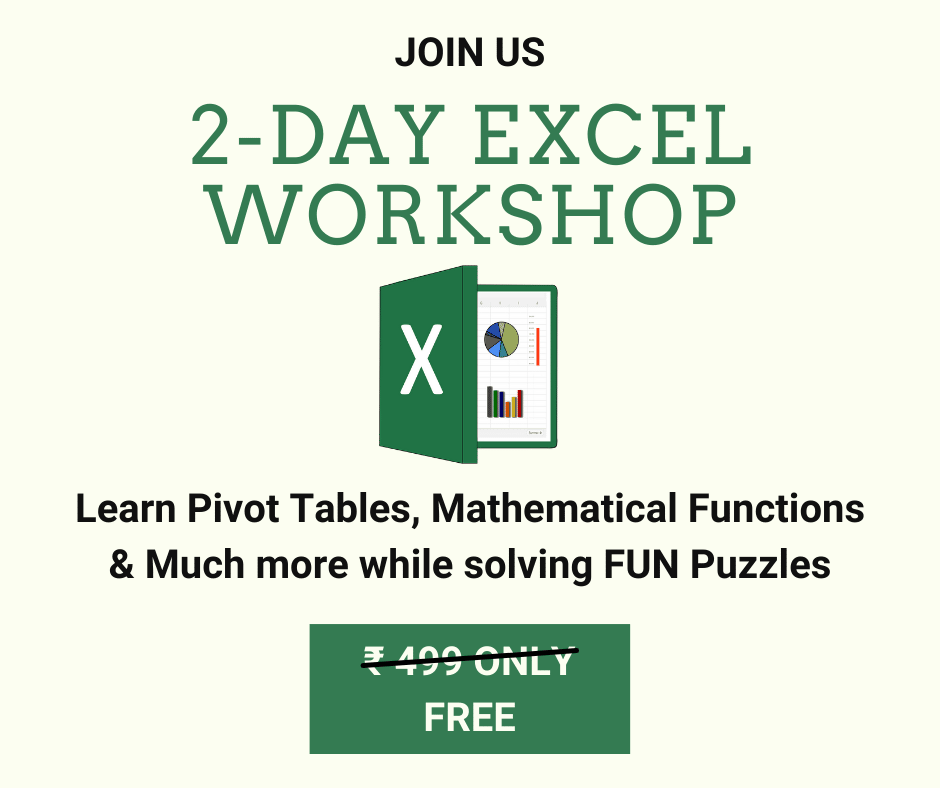 Do you know that most people only use 20% of MS Excel?
Have you wanted to impress your manager with attractive charts / dashboards, but do not know where to start?
Do you want to open new career options or grow fast in your career?​
Have you tried learning Excel from blogs/videos and become more confused?
Do you want to save a lot of time by automating repetitive Tasks with Excel Macros?!
If yes, then don't worry! You are at the right place!
Watch Feedback by Sivansh - Class 10th Student (Part of my 'Fun with Excel' course)
​
​
Faculty who has studied in IIM-Ahmedabad & NIT-Surat will be taking this workshop.
Dates: Sat, 11 Sep & Sun, 12th Sep 2021
Time: 6:00PM to 7:00 PM IST (about 1 Hour each day)
​
Send me a WhatsApp/SMS message on +91- 88672 36425 for any other questions. If you prefer email, you can reach me at kumar.bm@mlbrains.com.
I make learning Excel fun and exciting.
I do not offer the regular boring Excel training course. What I offer are puzzles and games.
Whether you are a beginner in Excel or an advanced Excel user, one thing is for sure: You are going to have fun solving these puzzles and playing these games!
You also learn Excel along the way!
In this workshop, I will cover Pivot Tables, Mathematical Functions, Basics of Excel & more, all through a fun Excel puzzle. 🤩
​You will get the following:
Free FUN Puzzle worth Rs. 499 during the Workshop
Access to Mentor for Doubt-clearing during the Workshop
Interactive Action-oriented fun sessions
​
(After filling the form below, within a few minutes, You will get an email with a Button to download the puzzle. Do check your Spam/Promotions folder, if you can not find the email. Just click on the button to download your free puzzle!! )