Hi All, Here are the results of the survey: 
As per this, 88% of people have completed 10 or more assignments!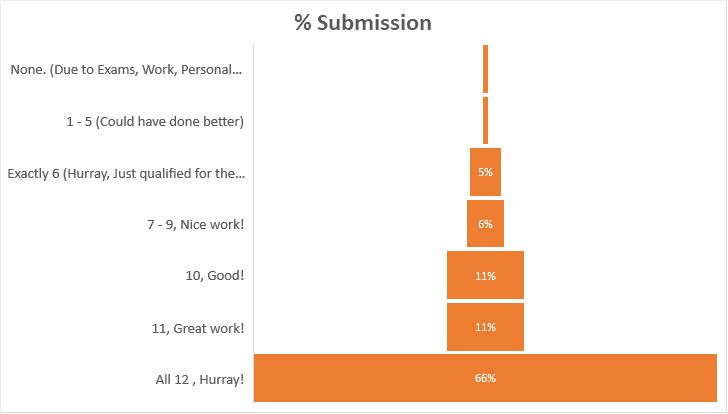 Well done Batch9 !!   
Do remember that these survey results are just indicative as it is based on just a sample, as not all participants have filled their details. 
Thanks to all the 109 interns who filled the survey form.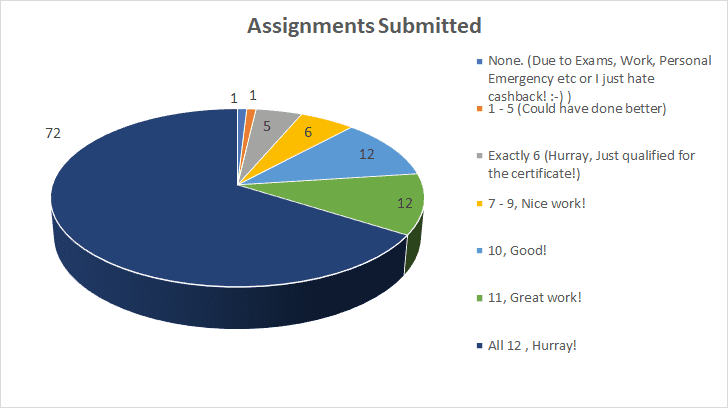 Assuming that the ones who have not filled their details are not very active on the Telegram group, probably they have submitted lesser number of assignments. 
So the % of people who have completed more than 10 assignments out of 12 could be much lower than shown above.   
To learn more about the amazing Digital Deepak Internship Program, click here.
To learn more about how to make this fun chart and know about the "Fun With Excel" Course, click here. 
You can also download an interesting & fun Excel puzzle there for FREE !!    
Who is the Real DarkLord? - Text & Date Functions
In Koramangala, Bangalore, the police caught a gang doing movie-piracy.
The police wanted to find out their leader, known by the nickname of DarkLord and quickly narrowed down the suspects. 
The police reached out to you to help them crack these clues, as you are the Excel & Data Analysis expert in town. 
You have to help the police in finding out the real DarkLord using your Excel skills!! 
ARE YOU UP FOR THE CHALLENGE?!